What is Crystal Glass and How is it Different?
Crystal glass is known for being a more refined version of conventional glass, and as having a superior shine and more sophisticated designs.
While the process of manufacturing both is similar, crystal and glass are not made using all the same materials.
Crystal vs Glass
Glass is mainly produced using liquified sand, soda ash, and limestone (calcium carbonate).
Crystal glass is also made with sand and soda ash but its mixture includes lead oxide instead of limestone.
Some glass manufacturers have particular recipes by adding other chemicals or material but these are the main ingredients.
To sum it up, here is a list of the various main ingredients in comparison (glass vs crystal).

A Difference in the Way of Work
For glass craftsmen, molten crystal is easier to work with, allowing for a higher level of creativity and freedom in their designs.
Crystal is cut more easily, seeing as the melted material is suppler and more flexible.
A Difference in Price
Crystal is often much more expensive than glass. But why?
The answer does not essentially lie in the composition of the material, but in a technique, a know-how.
The price of crystal is often the result of craftsmanship requiring hundreds of hours for certain pieces.
Also, a single piece could need the artistry of many glass masters, each of them having their specialties such as size or engravings.
In the process, all the parts are carefully checked: if one piece has the slightest defect, it is ruthlessly disposed of and scrapped.
Glass, on the other hand, is often the result of a fully industrial process, with a cost that is then much lower.
However, it is important to note that some glass manufacturers still work with glass in an artisanal way, while still offering mechanical production at a lower cost.
Baccarat – A Crystal Glass Icon
The infamous crystal manufacturing company 'Baccarat' that has been at the top of the game for more than 200 years, has developed its own way to make an even clearer and more brilliant crystal, and that is by adding 'nickel oxide' to their mixture.
To give you an idea, an example of a Baccarat crystal piece at its best would be this star-shaped crystal cut centerpiece.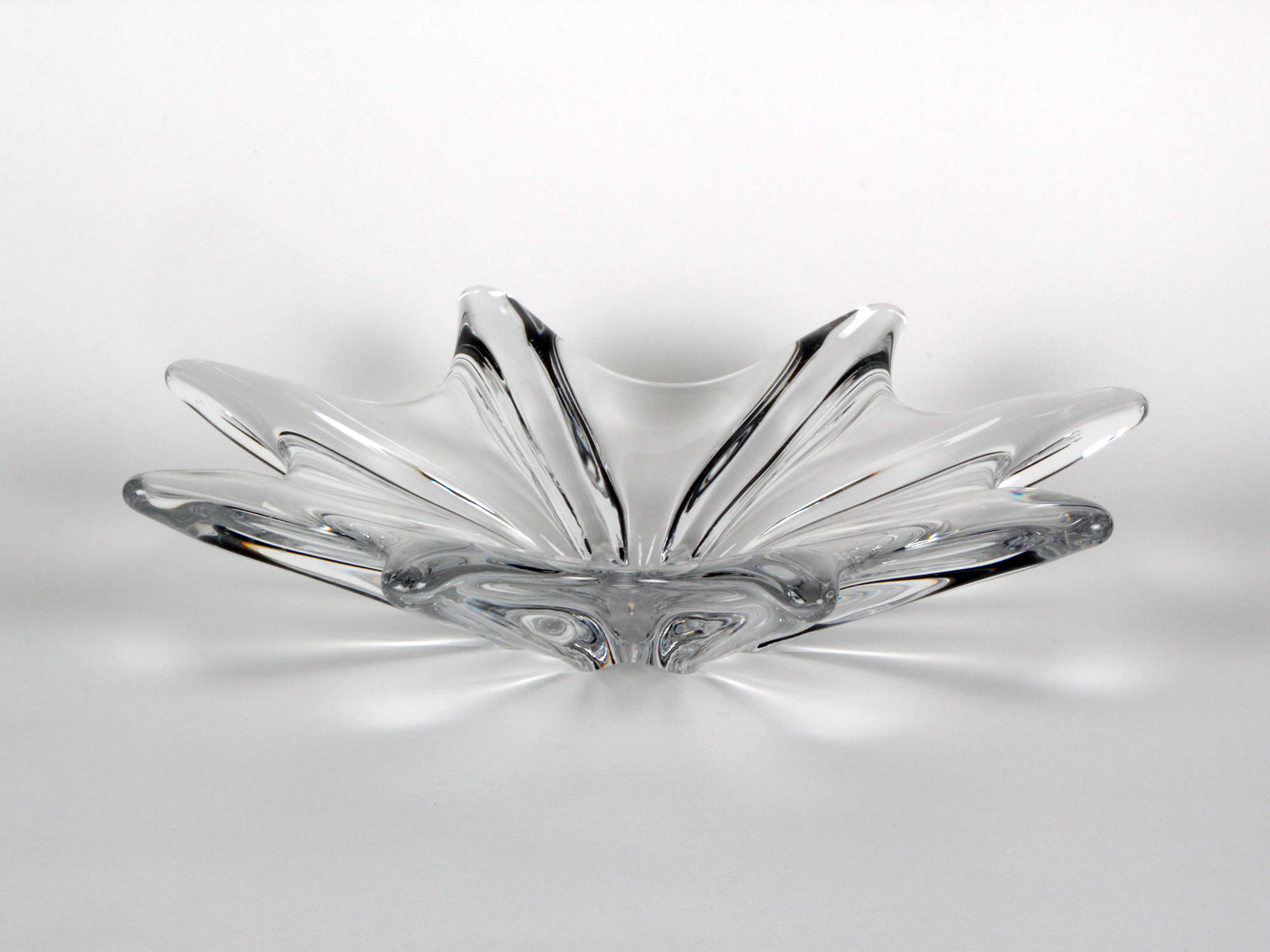 You can read more about the practices of the brand here.
Lalique – a Symbol of Innovation
Another celebrated crystal brand that has a special way of manufacturing glass is Lalique.
Lalique has historically been quite innovative in the field and it is well-known for revolutionizing the way perfume bottles are designed.
The brand has gotten 16 patents for different technologies used for producing glass.
One of Lalique's iconic glass pieces is a large vase entitled 'Versailles' and was originally designed by René Lalique.
The vase features a stunning floral motif that was inspired by the gardens of Versailles in France.
It also represents a classic design that highlights more modern interiors.
How Lead Affects the Glass Mixture
On that account, the main difference between traditional glass and crystal glass is that the latter contains lead instead of calcium, which leads to a suppler material that is easier to work with.
This allows crystal glassware to have more decorative patterns and designs than traditional glass.
The additional lead content in crystal also increases the refraction index of the glass.
This means that light travels faster through it, leading to a more clear, sparkling, and shiny effect.
According to the European Union, these are the main criteria for glass to be considered crystal:
a lead content higher than 24%.
a density higher than 2.90.
a reflective index of 1.545.
Here Are 5 Ways to Identify Crystal Glass
Listen to the sound of the glass. When tapped, crystal glass is supposed to make a resonated ringing sound with some echo; the more lead crystal glass contains, the longer the ringing tone is.
Hold up your glass to a source of light. If you notice the ray of light creating a prism or rainbow effect with slight blue/purple hues through the glass, then it is crystal.

Crystal is clearer (thus the term 'crystal clear'!) whereas regular glass is cloudy when held up to the light.

Compare the weights of crystal and glass items of the same size. As a result of its lead content, crystal glassware is considerably heavier than traditional glassware.
Delicately swipe your wet finger in circular motions around the edge of the glass and listen - crystal glass normally emits a subtle musical tone.
Inspect the cut of the glass. Crystal glasses typically have a thinner rim and a smoother cut than conventional glass.
Identifying the Maker
After you have concluded that the glassware is in fact crystal, the following step would be to identify its maker.
One way is to check the bottom of the piece for a maker's mark or a label.
Renowned crystal manufacturers normally mark their pieces with a logo, name, or signature on the bottom.
As you can see, Moser often mark their pieces with their brand name.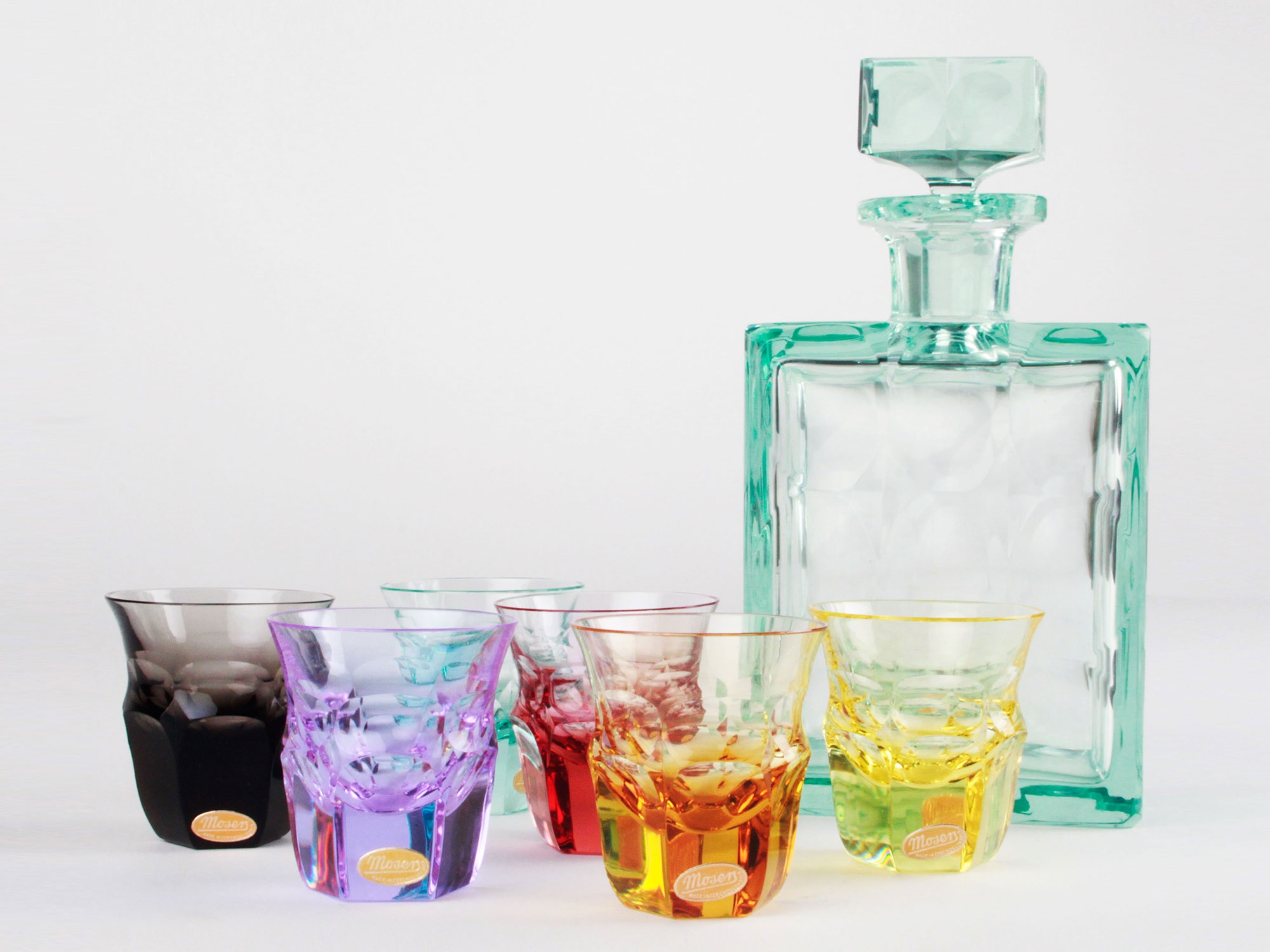 Lalique typically have a signature at the bottom. This is the mark on a beautiful Lalique crystal vase entitled 'Bucolique':
Some are etched somewhere on the piece, be sure to look thoroughly as etchings are often small and not so easy to find.
Another way of narrowing down the crystal maker of a crystal piece would be to analyze the pattern of the glass.
Try to look for patterns that are easily recognizable such as floral designs or even ones with a more abstract shape.
To give you an idea, an instantly recognizable pattern in the world of crystal stemware is the renowned Lady Hamilton collection by Moser.
Once you recognize the pattern, you should then be able to identify the maker with a little bit of research, pairing this information with the design of your glassware.
Hopefully this blog post has made it simpler for you to differentiate between crystal and glass.
A good piece of advice would be to only purchase crystal glass pieces made by well-known and recognized brands. Don't forget to always ask for a certification of authenticity.